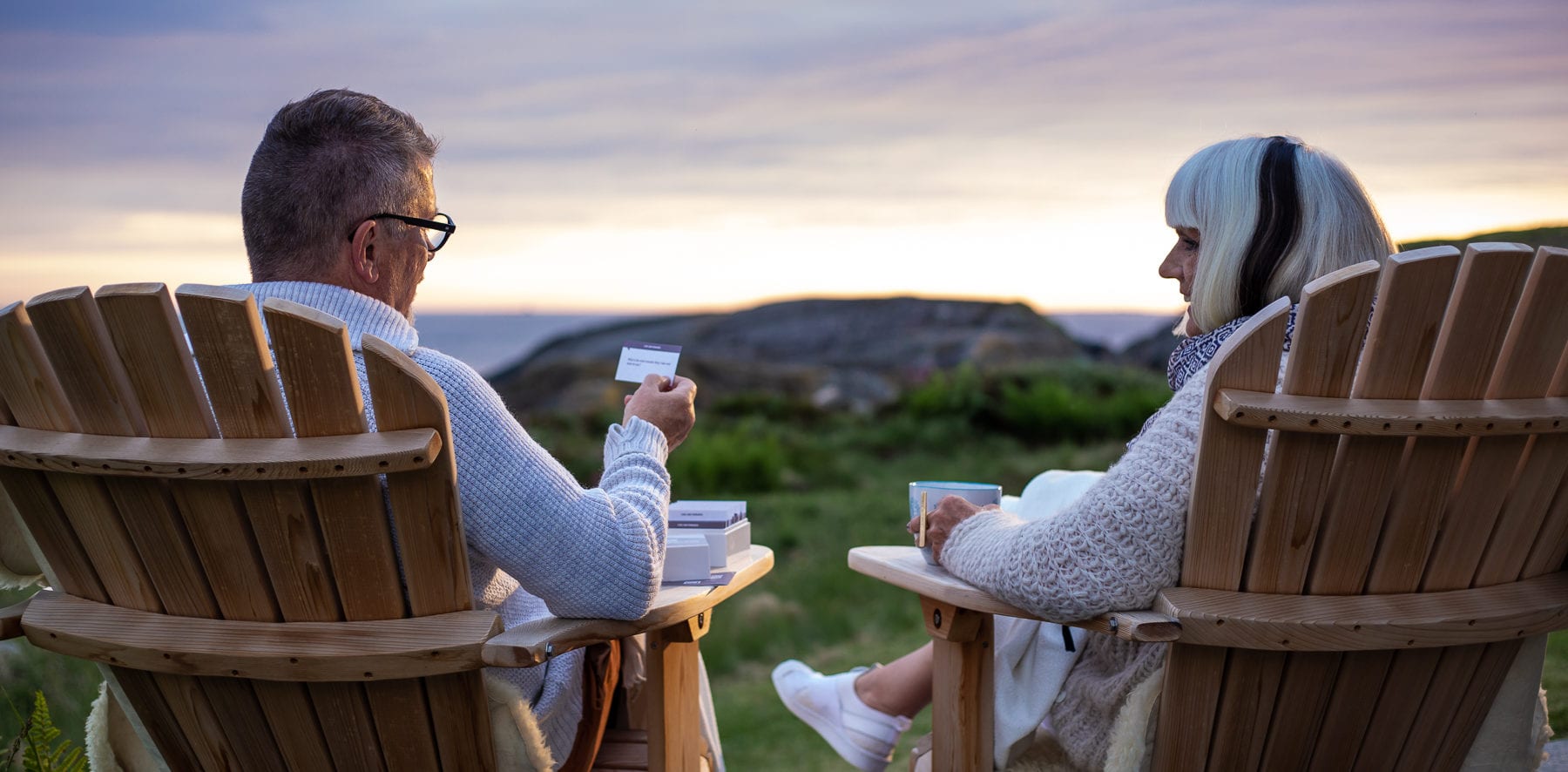 Feedback from our
customers
We had so much fun and it really truly worked.
Since the birth of our two boys my husband and I have struggled like so many of us to have enough time to connect and talk about the things that need talking about. We were able to get away for a night recently. And guess what we took with us. Yes, I packed the FUELBOX and bought it out at dinner over a glass of champers. We had so much fun and it really truly worked.
I loved how you can pause on a question and stay or move on as quickly or slowly as you want to. The tone of the questions was so encouraging and non-judgemental that it didn't cause us friction but opened up both of us to listen more and be surprised as well.
Thoroughly recommend FUELBOX. It was a great help and you don't have to go away to use it. I've recommended it to lots of friends and they too are getting the same result. It's a fabulous thing with no "cheesiness" just surprises, laughter and hopefully more closeness to the one you share so much with. Thanks, FUELBOX is awesome!
Laura, Australia
I don`t love you for the answers you give me, but for the questions you ask me
We did not talk about our grandchildren once!
I have been married to my wife for more than 40 years and we just had our best trip alone together ever. We did not talk about our grandchildren once!
Thank you!
Knut
We opened up and listened to each other.
I was recommended FuelBox by a friend who successfully used this with her husband. It seemed like a fun way to re-connect with each other so I treated my husband to FuelBox as a Valentine's Day present.
Our first session with the FuelBox was very relaxed. We deliberately set time aside to have a nice meal and sit outside with a glass of wine. It was great to have ready made topics to discuss which took the pressure off us. We went through a range of emotions during the course of the evening and deliberated topics which we wouldn't have otherwise discussed. It took us out of our comfort zone at times, but with positive results after we opened up and listened to each other.
It was interesting, as we assumed that after 15 years together we knew each other's views. However, after using FuelBox as a tool, it was clear both of us have changed along with our opinions, which surprised us.

Sally, Australia
A door opener for dialogue
In a busy day full of practical tasks, we experienced Fuelbox as a door opener for a good and quite different conversation. The questions are put in a way that facilitates reflection, dialogue, and ultimately the great feeling one gets after an open and honest conversation. A fuel box in the living room can be recommended!
Brede Hangeland, London
Married for 24 years
Had an awesome conversation with my hubby the other night after opening the FuelBox – good to see we still had it in us after 24 years thank you for selling such a great product!
Nicky
You make my father so happy
We drew the question "What do you most appreciate about ME?" from FuelBox FAMILY the other night. When my 15-year-old stepson was going to share what he most appreciate about me, I thought he would say my pizza. What he said, really touched me: "What I really appreciate about you Venche, is that you make my father so happy …."
Thank you for creating these moments with our kids.

Venche, Norway
To feel close to each other
I would really recommend this box. For everyone who believes that to become and stay close in a relationship, you need to get to know each other.
Even after many years together. Over and over again.

Guro Fostervold Tveten
We have made it a pact that we will do it every Wednesday night over dinner.
Well what a pleasant surprise I got when we got out the FuelBox last night. I wasn't sure what to expect but I wasn't expecting a night filled with chats and laughs reminiscing about our romantic gestures to each other and also our most annoying habits which we had a huge laugh over! It's such a positive experience. We have made it a pact that we will do it every Wednesday night over dinner. Talk about a FuelBox for our relationship! Thanks so much.
Jodie
Curiosity is the key to create and nourish
all relationships
Stay curious Ask questions
Brought our FuelBox to our honeymoon
We were lucky to get FuelBox as a wedding gift. What a thoughtful and useful gift! When we traveled to Thailand on our honeymoon, the box was in our suitcase and it was widely used. The questions provide input for fun and exciting conversations. And what we noticed was that they really initiated important processes for us. We highly recommend the box and have chosen it to be placed under the Christmas tree for the rest of the family this year.
Hege og Hallgeir
The world's best get-to-know-each other-super well conversation!
I brought a bottle of wine and a FuelBox on a date with a man. Of course, with good faith in our potential. I saw FuelBox as a perfect tool to get conversation about topics that usually will take weeks and months to get into, depending on how good the communication is. We extracted the questions that was not relevant to us (ex. children) and sat together from 20.30 to 02.30 with the world's best get-to-know-each other-super well conversation!
We both agreed that it is a brilliant concept you have created! Thank you so very much for a valuable tool and alot more insight!
Helene, Norway
All couples need a FuelBox!
Yesterday I shared a bottle of wine with my husband, and finally we found the time to try out the FuelBox @frugodager told me about. I gave this to my husband for Christmas and it absolutely met our expectations. There were tough questions, fun and tricky – all of them created great conversations, which is the intention of the box. In a busy life, filled with everyday chores, this box can help you refuel. I would argue that all couples need such a box. I would also like to try the friend version and the one for families. Thanks to @fuelberta for making these!
Hanne-Monica, Norway